Driveway Cleaning in Columbia SC
Over the years, Belton Power Wash has gained the trust of the local property owners in West Columbia SC and their commitment towards driveway cleaning has strengthened this rapport. We diligently ensure that the driveway is very neat and beautiful.
It is very important to maintain a neat driveway. A dirty driveway says a lot about the owner of the property. Coming home to meet a neat driveway can boost the mood of the homeowner and also serve as a delight to visitors. Slip-and-fall accidents can also occur when the concrete wall becomes covered in grime and algae.
We as a team are committed to ensuring that your driveway looks as clean as new, irrespective of how dirty it is at the moment. We use a unique driveway pressure cleaning service which is very popular among residents of West Columbia as it is well known to make the driveways look very neat and clean. This also comes with a free quote, too.
Use Our Driveway Cleaning Services to Revitalize Your Curb Appeal!
Employing the services of the Belton Power wash promises to provide you with professional driveway cleaning power washing service in West Columbia, SC. We ensure that we make your concrete driveway look neat using specialized equipment and proven methods. The driveway can easily become wet and slippery and this becomes unsafe for homeowners. Also, visitors will not have a good impression of your home when the driveway is messy.
Driveway Cleaning Improves Curbside Appeal
An industrial-grade pressure washer is used together with a professional surface cleaning attachment for cleaning concrete driveways in West Columbia. This method is very effective for cleaning because the surface cleaner has different nozzles that spin multiple times to distribute water at a very high resolution. This process ensures the uniform cleaning action that prevents the development of "zebra stripes" which usually occurs when the driveway is cleaned with only a wand.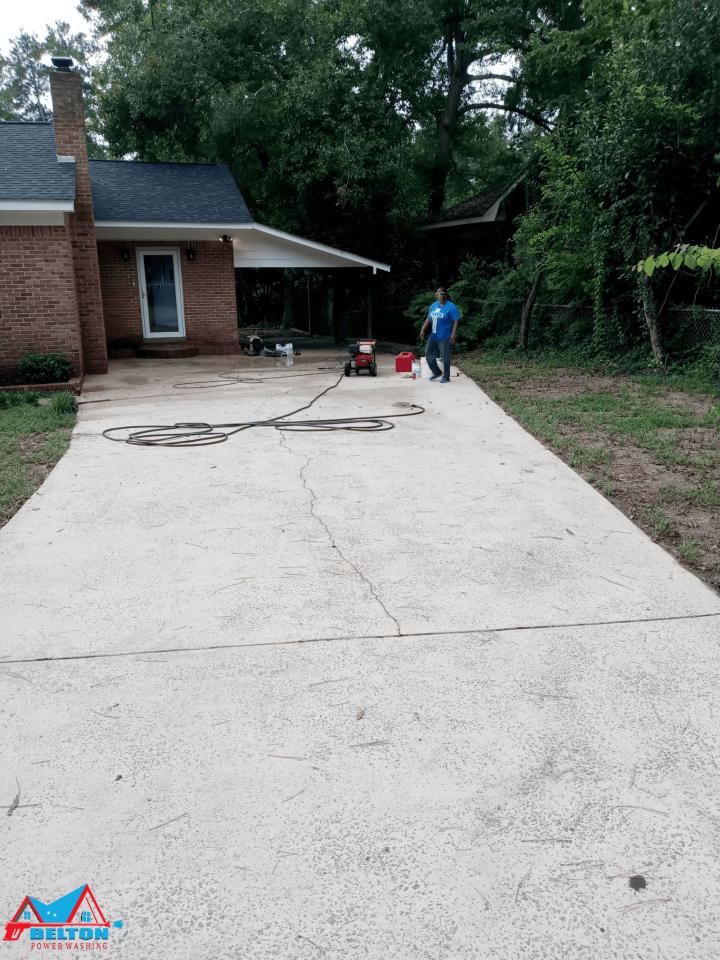 Driveway Cleaning Transforms the Look of your Home
Belton Power Washing provides driveway pressure washing services Irrespective of the material the driveway is made of or its ground covering, we provide a means to effectively clean the driveway thoroughly. With our enhanced power washing and cleaning techniques, we are sure that our concrete and driveway cleaning services in West Columbia leave most of the surfaces appearing neat and new.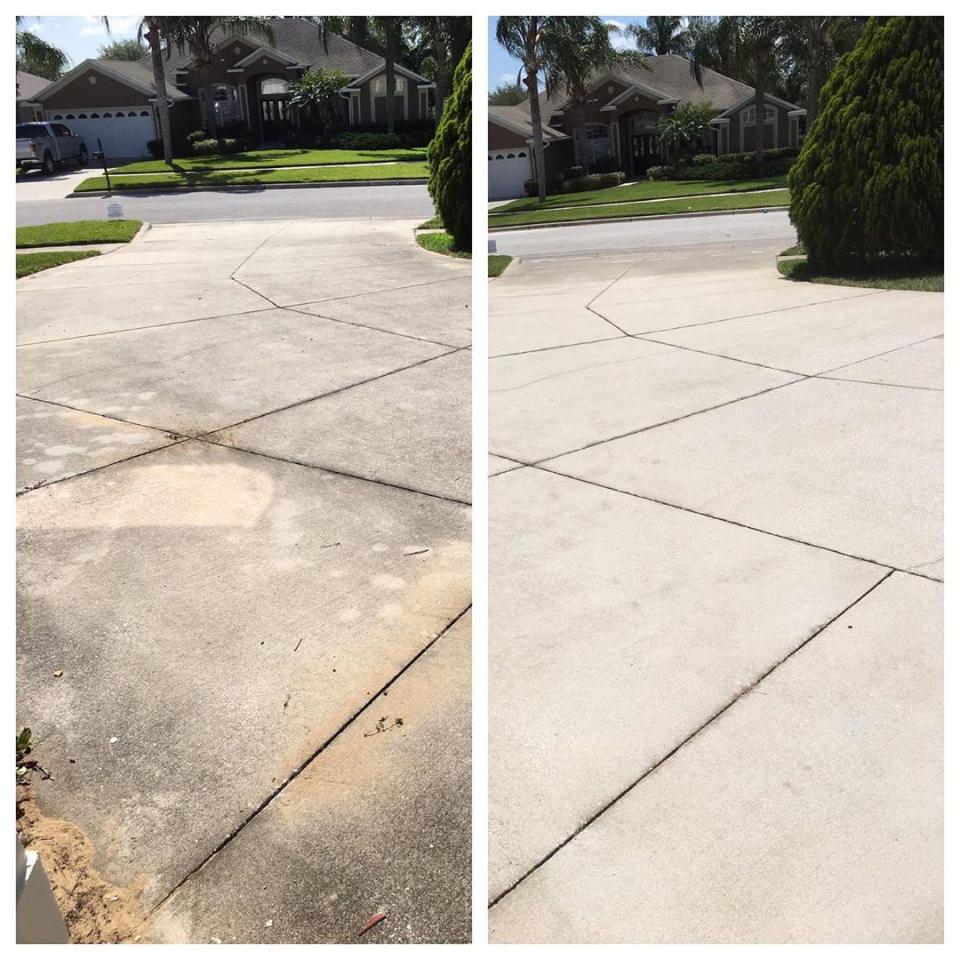 Types of driveway materials we can clean:
Stone
Concrete
Asphalt
Brick
Over time, dirt can easily get trapped in these materials due to their porosity. When these areas with dirt come in contact with water, they can easily become wet and unsafe as they become slippery as well. Our pressure washing techniques can help maintain a clean driveway as well as ensure the safety of the household. So if you are looking for driveway cleaning near me in West Columbia Sc. Feel free to contact Belton Power Wash for a free no-obligation quote.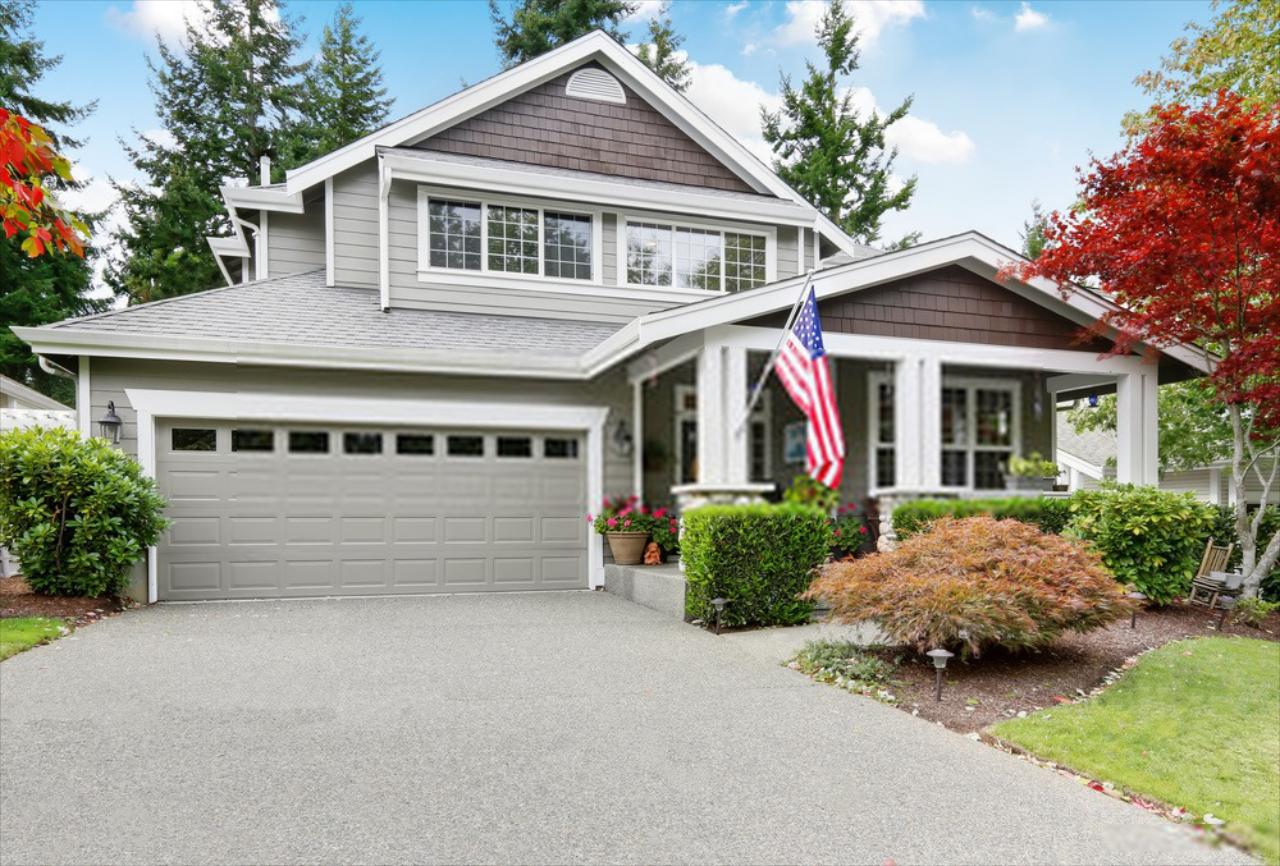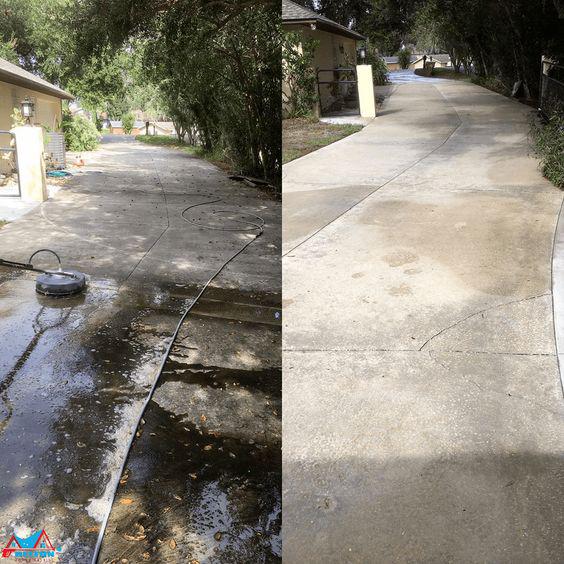 Make the Most of Our Driveway Cleaning Services
The following are various benefits of using our driveway pressure washing service in West Columbia Sc.
It makes your property's curb look beautiful
Keeping a neat driveway ensures that your outdoor space maintains a welcoming appeal. When kept neat, it can encourage outdoor activities as well as ensure that the overall exterior of the house is clean. Also, we treat strains that can make the driveway deteriorate or lose its color.
It keeps the integrity of your driveway intact
When you do not treat the grime and algae on your concrete properly and on time, it can make it to erode. With this in mind, it is important you instantly repair driveway cracks which if left can lead to expenses running into thousands of dollars. We ensure to remove all grimes and dirt before it affects the integrity of your driveway.
It prevents accidents slip-and-fall injuries
Safety is a top priority of our professional residential and commercial driveway cleaning team in the greater West Columbia area. Slip-and-fall accidents are usually caused by grease, oil drips, and algae buildup. We carry out proper cleaning of your driveway to prevent the occurrence of these accidents.
It would not be okay for you to wait until your driveway is covered in grime and dirt before you contact a very dependable pressure washer driveway cleaner in Columbia. Allow us to enhance the look of your driveway and improve the curb appeal of your property. Do well to call the driveway cleaning experts in Columbia today!